---
King
Posts: 4877
Joined: Fri Mar 21, 2008 10:53 pm
Favourite Hero: Captain America
Where did you hear about us?: Other
Location: Hull, England
Contact:
Thanks for coming and posting these, I think they're great.
If you wanna post more then I have an image gallery here:
-->
image-gallery-t303.html
Jesus Christ I'm not scared of dying, I'm a little bit scared of what comes after.
---
Marquis
Posts: 1177
Joined: Mon Jul 28, 2008 4:54 am
Favourite Hero: Batman and family
Very nice, I like your style a lot, and I can see you writing comics some day if you get a good story line.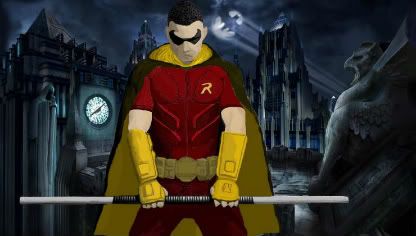 ---
---
Good, I like the faces, you should draw the whole body, make sure its poportioned (Human beings are about 5-6 heads tall)

work on line weight, while the scribbles are ok, a clean drawing is better, if you can, get tracing paper and place it over your sketchy drawings and redraw them cleaned up

kudos :spider-man:
---
Squire
Posts: 9
Joined: Mon Feb 23, 2009 2:18 am
Favourite Hero: Deadpool
Where did you hear about us?: Told by a friend
Location: London
not bad man, keep it up. I agree with the comments about line weights, and perhaps use plain paper? or layout paper over the initial sketches so you don't get crazy parallel lines in the background
I may be some time...
---
yeah definitely keep it up. they're nice.
---
Squire
Posts: 34
Joined: Sat Mar 21, 2009 3:08 am
Favourite Hero: Wolverine
Where did you hear about us?: Told by a friend
i've actually been trying to draw manga but haven't had much success. I always have trouble duplicating the character, in each frame the character looks slightly different until the character just looks completely different. Any tips?
---
Squire
Posts: 7
Joined: Thu Jul 26, 2012 12:32 am
Favourite Hero: Catwoman/Batman
Where did you hear about us?: Told by a friend
These i really nice. I like that their rough sketches it adds character to them.
---
---