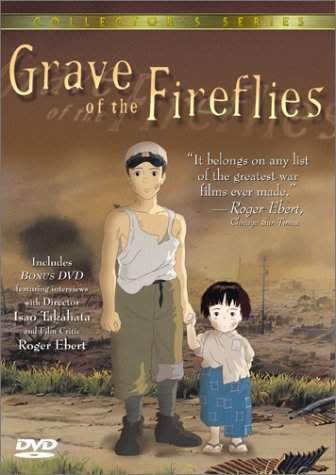 Quote:
Written and Directed by Isao Takahata

Produced by Shinchosha

Animation by Studio Ghibli
So I bought myself a Studio Ghibli boxset.
I've watched My Neighbour Totoro a couple of times, and I've seen bits of Kiki's Delivery Service, but never got around to watching any more of them. Not even the much acclaimed Spririted Away! I thought this wrong should be righted and so I started with Grave of The Fireflies.
And what a start! I honestly can't tell you how much I loved this film, it's beautifully animated, and the semi-autobiographical story is written perfectly, featuring characters that you instantly care about and continue to do so right through to the bitter end.
And Lord is it bitter.
The film opens with Seita dying in a Train Station in Kobe, and the rest is then a flashback narrated by his dead spirit. He tells the tale of him and his younger sister, Setsuko, who are left orphaned when their mother is killed during the bombings and their father is off fighting in the war. They briefly move in with a distant Aunt, but soon decide they are going to go out and live on their own. They build up a home for themselves in an abandoned shelter, and Seita tries to provide for the two of them by trading, buying or stealing food.
Setsuko's death was probably the saddest death scene in any film, animation or not. You knew it was coming right from the intro but it still managed to catch you by surprise. 'Moving' just doesn't do it justice.
I'd call this Schindler's List done in the style of Pursuit of Happyness; it's an anti-war film that just get's sadder and sadder with not a moments rest.
Wiki wrote:
The story is based on the semi-autobiographic novel by the same name, whose author, Nosaka, lost his sister due to malnutrition in 1945 wartime Japan. He blamed himself for her death and wrote the story so as to make amends to her and help him accept the tragedy.
Learning that just made it all the more real.
4.5 out 5 Cactuars
:cac