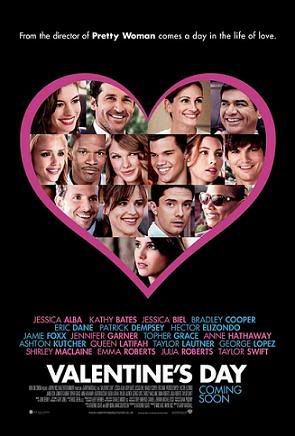 Quote:
Starring

Jessica Alba
Jessica Biel
Bradley Cooper
Ashton Kutcher
Julia Roberts
Jamie Foxx
Anne Hathaway
Shirley MacLaine
Hector Elizondo
Jennifer Garner
Patrick Dempsey
Eric Dane
Emma Roberts
Taylor Swift
Taylor Lautner
Queen Latifah
Topher Grace
Carter Jenkins
George Lopez
It's Valentine's Day so of course I had to take the Mrs to see a RomCom, and, since this has the same title as the day, I guess it was obvious what we were gonna see.
It's a story about multiple characters in LA on the most romantic of days. Their storys all interlock and there's a couple of surprises about who is with who and how they know each other; friends fall in love, couples break up, and general comedy ensues. Ashton Kutcher puts in a surprisingly stand out performance and Anne Hathaway has become a new love of mine.
There was a couple of really cheesy moments that the film could have done without; a clip of two toddlers have a peck was fairly vomit enducing but had the young girls cooing.
Ultimately it was a good popcorn flick to see with the Mrs, it doesn't quite have the warmth that the Brits manage in Love Actually but is still worth a watch.
3 out of 5 Cactuars