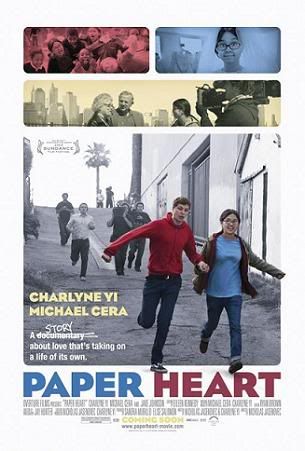 Quote:
Starring: Charlyne Yi, Michael Cera & Jake M. Johnson

Written by Nicholas Jasenovec & Charlyne Yi

Directed by Nicholas Jasenovec
My wife has a bit of a nerd crush on Michael Cera...
That's the reason we pre-ordered this film and watched it the day after it arrived through our door.
We'd recently watched Nick & Norah's Infinite Playlist, Superbad, Juno and Youth in Revolt, all Cera films, and had enjoyed all of them so this sounded right up our street. The films lead role is taken by Cera's then-girlfriend Charlyne Yi, who is on a quest to discover what 'Love' is and whether it actually exists. It's made as a documentary with Yi asking members of the public what they think about love, and then also having discussions about her own non-existant love life with her director Nicholas Jasenovec (played in the film by Jake M. Johnson). As Yi and her team of Director, Cameraman, and Sound Engineer travel around together interviewing passers by, she meets Michael Cera and the film instead becomes about watching Yi discover what love is first hand.
It's a really great idea and the beginning didn't disappoint. There's some very sweet interactions between Yi and members of the public, especially when she meets a group of Bikers at a bar, and later when she talks to a group of kids who seem to know more about the subject than she does. The instant connection between Yi and Cera seems a bit forced, which is surprising knowing their actual relationship. That was a short blip though as the couple soon start to seem a lot more natural after spending some more time on screen just getting to know each other.
The one big let down for me was the ending. There was a very sweet point in which it could have ended and I would have been satisfied at that point that the film had accomplished what it needed to. However... They tagged on a very daft ending that seemed insanely unnecessary, and really did leave us feeling a little disappointed.
This is not for everybody. However, if you're in a relationship then I would recommend curling up on the sofa with your other half; it is a film about love after all. Yi's confusion about what love is and whether or not everybody is capable of the emotion makes for compelling viewing, a lot of which clearly comes from some of her own thoughts and fears. Marred by a crappy ending and a slightly dodgy chemistry, this film is still worth a look if you're a fan of the cute indie flicks.
3 out of 5 Cactuars.